Switching to Kinder, Natural Personal Care Products
If you've been curious about what's really in your makeup and beauty products, the sad reality is that most items from the shelves are not pretty.
The use of chemicals and synthetic ingredients in personal care products is widespread.
Many mainstream brands test on animals and may even be harmful to the environment.
What was scariest to me is the fact that our skin absorbs 60% of what we put on it.
The average woman wears nearly 515 chemicals a day and eats about 4 pounds of lipstick in her lifetime.
I'm not sure about you, but to that I say, 'no thank you!'
The only way to make sure the items we buy are free of (or at least have fewer) chemicals and toxins is to read labels and watch ingredients.
I avoid believing claims on packaging, because terms like "natural" and "healthy" can make you believe an item is better than it really is.
Also, just because a label says "no parabens" or "free of XYZ" doesn't mean that the item doesn't feature something else just as sketchy. Flip those products over and read the back.
Red-Flag Beauty & Cosmetic Ingredients
Because label reading can be really confusing, I find it easier to know what ingredients to avoid rather than what to look for.
Here's a list of some of the ingredients that you might want to steer clear of due to various health concerns:
phthalates
parabens
sulfates
propylene glycol
artificial fragrance (often just labeled as "fragrance" or "parfum")
artificial colors (Red 5, FD&C Yellow 6, etc.)
petrochemicals (including paraffin, mineral oil, PEGs and BHA)
triclosan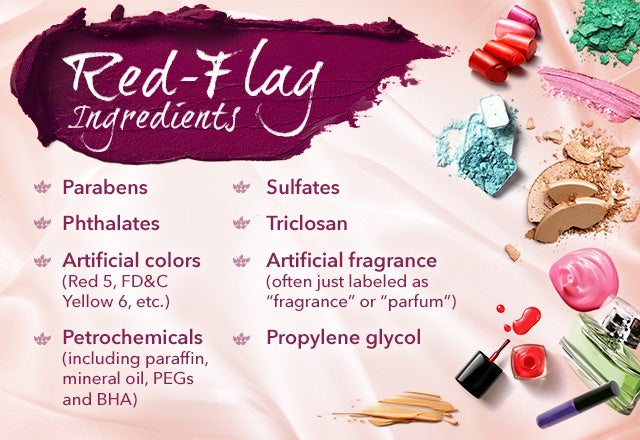 Here's a helpful tip: Items are listed on a label in order of amount, so the first ingredient is used in a high amount, and the last one, in a small amount.
One of the most helpful resources I've found is the Environmental Working Group's Skin Deep Database.
By searching a specific brand or product, you can get an ingredient-by-ingredient analysis and rating of how harmful (or helpful!) an item is.  
My Own Experience with Natural Beauty Products
I've been using natural makeup and personal care items for months now and absolutely love it.
Thanks to the range of items available at Swanson, I was able to try a ton of brands and products to find out what worked best for me.
I feel great about the ingredients in my new products. Transitioning away from my old items has been pretty smooth, and I don't even miss them anymore.
If you'd like some recommendations, these have been some of my own favorite natural beauty finds:
EcoTools Retractable Kabuki Brush
This brush is great at applying my loose powder, and it's super soft. It comes with a case, making it perfect for travel.
 
DermaE Makeup Remover
I tried four different eye makeup removers, but this one was the clear winner.
 
Aubrey Organic Lip Balm
This is my new favorite lip balm. It smells amazing, feels great and the texture is perfect.
 
Alba Botanica Very Emollient Sunless Tanner
This is one of my favorite natural finds of all. This tanning lotion goes on really smooth and feels more like a moisturizer. It doesn't leave any orange streaks, and it actually smells great too. It's perfect for maintaining a nice color year-round.
 
Alba Botanica Very Emollient Foam Shave
Not only does this shave foam smell amazing, but it works well, too, and leaves my legs feeling luxurious.
 
Nubian Heritage Coconut & Papaya Body Wash
I tried about 10 different body washes, but this one was the standout. It lathers well (even without SLS!), smells great and cleans effectively.
 
Kiss My Face Triple Action Toothpaste
Many natural toothpastes taste bizarre, or feel chalky and barely foam at all. This one felt the most like what I'm used to, but with better ingredients. Even my husband liked it, and he can be picky!
 
Giovanni VitaPro Fusion Leave-In Hair Treatment
Giovanni VitaPro Fusion Leave-In Hair Treatment: This spray is perfect for after washing your hair to help smooth and condition for the rest of the day. It's like vitamins for your hair!
 
Mineral Fusion Nail Polish Remover
I didn't realize how harsh and drying other nail polish removers were until I tried this one. It actually seems to nourish my nails while removing old polish just as effectively.
Remember that we all have different tastes and preferences, so what worked for me may not for you.
Another wonderful thing about these products is that all of these brands are certified Cruelty Free: All products bearing this "Cruelty Free" icon comply with PETA or Leaping Bunny standards, providing assurance that animal testing was eliminated from all stages of product development.
To learn more about what Swanson carries, and to explore our selection, check out our natural beauty page and check out the natural beauty category of our store.
If you want to start the transition to natural beauty products, you certainly don't have to overhaul your entire inventory at once!
Start with one or two items and slowly replace your old products as you run out.
Easy Natural Beauty DIYs
Of course, if you're ambitious enough, you can also try making your own beauty products with things you probably already have at home. Here are a few ideas:
There are many benefits to using beauty products with fewer chemicals, but only you can decide for yourself if you want to make the transition. There's no harm in giving it a shot – why not? I found it to be a great decision, and maybe you will too!
What are your favorite natural products or beauty DIYs?
Sources
www.treehugger.com/health/l515-chemicals-a-day-youll-be-surprised-learn-what-your-skin-absorbing-infographic.html
articles.mercola.com/sites/articles/archive/2015/05/13/toxic-chemicals-cosmetics.aspx
http://www.naturalhealthyconcepts.com/infographic-toxic-skin-p-infographics.html