Week three has come and gone, and our fearless bloggers are rocking Whole30! Time to check in and see how things are going for the Whole30 trio.
Here I am, making my week three update and I am very happily surprised to say that I honestly don't feel like I am on a 'challenge' anymore, but instead this has just become my normal way of eating. This is important as it shows me that it is something that can be maintained for the long-term (plus or minus a few treats, of course--gotta live a little every now and then!).
Before I started Whole30, I NEEDED my evening treat. I have a raging sweet tooth. It didn't matter if I was actually hungry for more food or not. I feel like I am getting a handle on true hunger now, instead of just cravings. It is an empowering feeling to not be under the power of sugar. I am using food for fuel and for health, not any psychological reasons. Furthermore, once you get rid of sugar for a given amount of time, things like plain ol' fruit start to taste like candy of the gods. Seriously. It's pretty cool! The number one choice is of course fresh, whole fruit, but for a change of pace every now and then I've been reaching for some dried mango slices. They are delicious!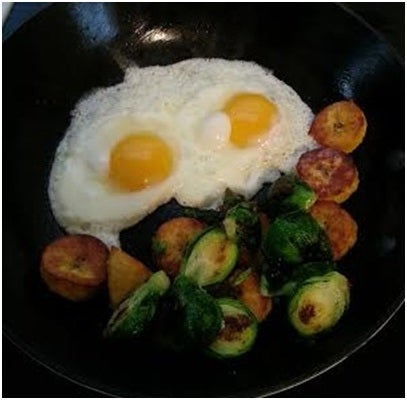 eggs, plantains, and brussel sprouts cooked in coconut oil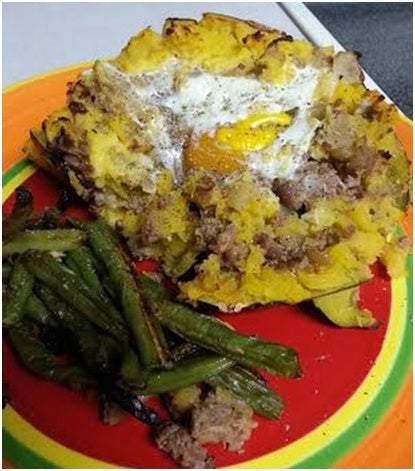 bison and onion stuffed acorn squash with an egg baked on top, and roasted green beans
bison and stir-fry veggies cooked in ghee with sweet potato wedges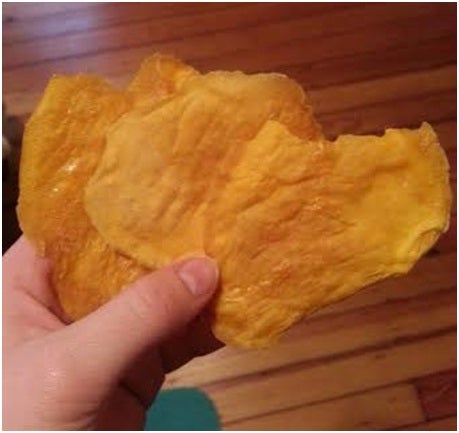 dried mango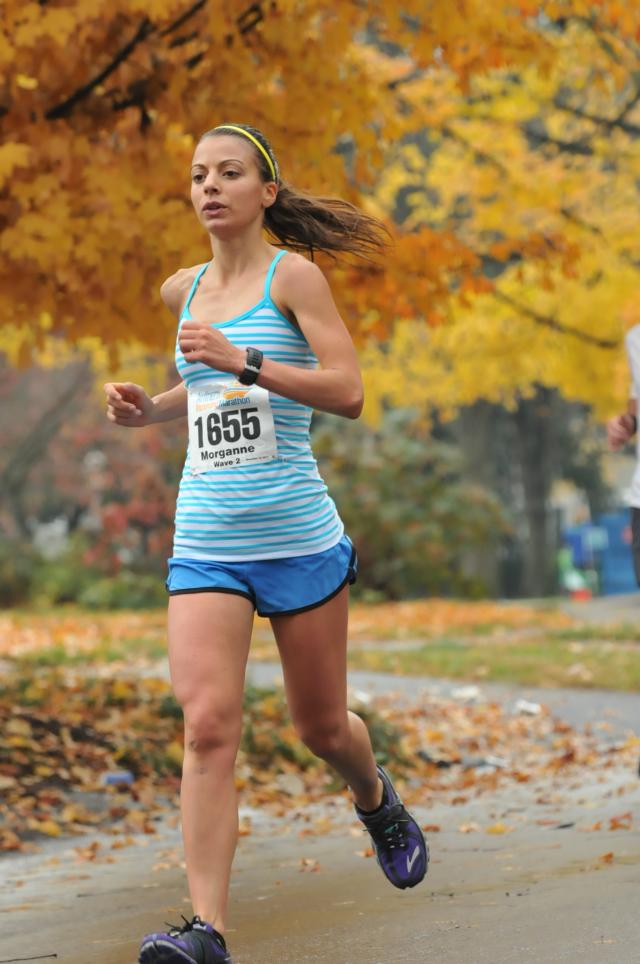 I cannot believe three weeks have already passed in the Whole30 challenge! This week was difficult due to a stomach bug that had me knocked out. Food did not sound appetizing in the least bit. The only thing I wanted was toast and butter. I refrained and stuck with squash and coconut butter. I am not sure if this actually helped, but mentally it made me feel a little better.
Besides a minor setback, I have still been really enjoying the foods on Whole30. Being sick validated the fact that your body needs real, whole foods to properly function and thrive. As I mentioned in my introduction, doing the Whole30 challenge was a way to stay accountable for cleaner eating and help heal my digestive system. I am so happy to say that this has been the best decision I could have made. My energy has continued to increase, my food has been more satisfying, and I have not had any gastrointestinal issues.
After my first week, I was constantly searching for recipes to make and try, but I have learned that it can be really simple to put meals together. Just grab a protein source, a starchy vegetable, and some healthy fats and you are all set!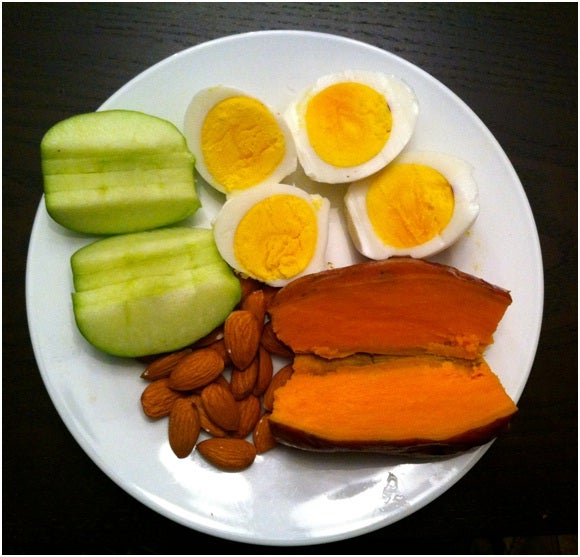 Two hard boiled eggs [protein] + baked sweet potato [starchy vegetable] + almonds [healthy fat and protein] + apple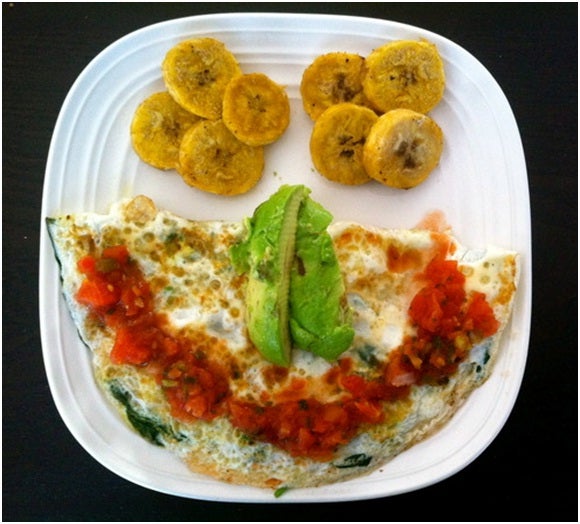 Spinach omelet [protein] + salsa + avocado [healthy fat] + coconut oil [healthy fat] fried plantains [starchy vegetable]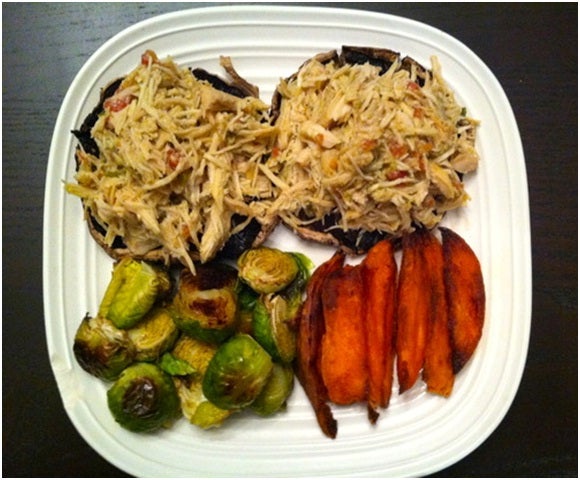 Shredded chicken [protein] mixed with guacamole [healthy fat] and salsa stuffed mushrooms + coconut oil [healthy fat] roasted sweet potato fries [starchy vegetable] + brussel sprouts
Jenna: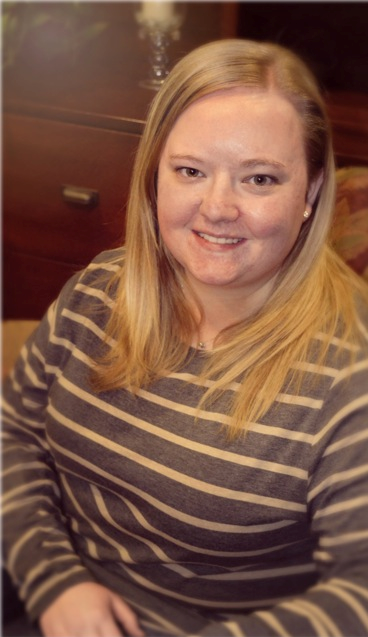 It's hard to believe that three weeks have come and gone! I continue to enjoy swapping pictures and recipes with Kristi and Morganne as well as other bloggers and people participating in Whole30. You might think you'll run out of recipe ideas, but I guarantee you'll never find a shortage if you know where to look. If you need inspiration, try searching for "Whole30 recipes" or "#Whole30" on various social media outlets. A lot of my recipes come from Pinterest and bloggers. You can also dig around the Whole30 website. Try thinking of this challenge as a health expansion instead of a restriction. You'll go far!
Morganne talked about her traditional eating plan last week, so I thought I'd focus on that in this post. While I didn't normally eat six small meals a day like her, I did have a strange schedule. Some days I wouldn't eat breakfast. Some days I'd have four smaller meals. Some days I'd snack at work and cave on eating treats brought in from coworkers, so I wouldn't feel like eating dinner until closer to bedtime. This threw off my sleeping schedule, my sleep quality, my mood, and my ability to find a life balance. Whole30 has taught me the importance of an eating schedule. Food should not control your life, whether healthy or unhealthy. If you commit to an eating schedule you won't have to think twice about it or stress over it.
For me, eating within an hour of waking up is important. It gives me that morning boost of energy and helps limit coffee intake throughout the morning. Next, I found a lunch and dinner schedule that complements my work and post-work lifestyle. I may have a small snack between lunch and dinner, especially if a post-work workout is involved, but otherwise I stick to the three meals. I think a lot of people follow a similar schedule since that is the recommendation, and it seems to work.
Apart from the food schedule, things are still going well for me. My skin is continuing to clear up, my sleep schedule continues to improve, and I just feel better overall. That being said, I can tell my body isn't even close to completely healing. This process will take a while, but I'm well on my way and couldn't be happier!
Now, time for food. Apparently this week was bison week for me. Here are a couple food photos: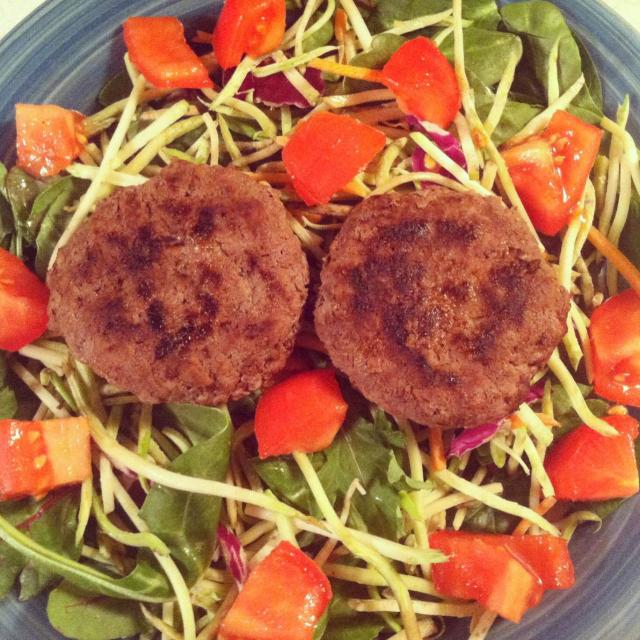 Bison burger salad with mixed greens, tomatoes and broccoli slaw.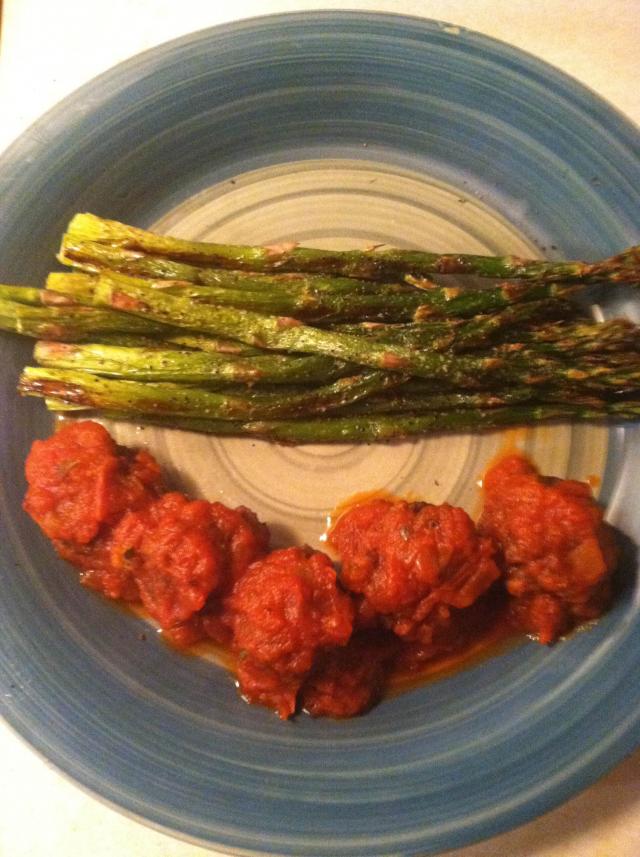 Bison meatballs with Dukan Diet Marinara Sauce and asparagus.